---
Give Your Cat That Constant Stream Of Water They Always Want
Does your cat hate drinking out of a normal water bowl? keeping your Kitty happy and hydrated all day long with our Cat Drinking Water Fountain Bowl! Cats naturally prefer to drink flowing water over a traditional water bowl, take advantage of our 30-Day Money-Back Guarantee and try our Cat Drinking Fountain today!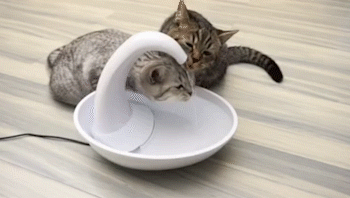 Benefits
No more Sink Sipping: Keep your cat hydrated without the constant meowing for you to turn the sink on,  
Veterinarian Recommended: Cats chose not to drink water when they don't have access to flowing water, our Cat Drinking Fountain is recommended by the vets to keep cats healthy.  
No More Dehydration: Dehydrated cats can get angry and vicious, keep your cat happy and healthy!
Reduce Strain: Bending down to drink from a traditional bowl can cause back and neck strain in old and young cats.
East to wash: Easily remove the pump and throw them in the dishwasher or hand wash for a perfect clean.
Product Specifications:
Capacity: 2.34L
12V water pump
Power Supply: USB port
Size: 12.99in x 8.66in x 10.63in 
Package Content
1x Water Fountain
1x Filter 
1x Instruction Manual 
1x Water Pump
1x Stopper 
1x Plug
FAQ
Frequently Asked Questions
You are able to use your credit card, apple pay, google pay or a paypal account as payment methods.
Shipping fees depend on the shipping method you choose. Standard shipping is free with an order value of at least 19.99$.
We offer USPS shipping for parts and accessories, ground shipping, USPS expedited shipping and USPS priority/overnight shipping.
We generally offer a return window of 30 days after purchase.
There is no minimum order value, however with an order value of at least 19.99$ you will receive free shipping.
Our warehouses for America are located in wyoming.

Unfortunately we can not guarantee that all our products will be in stock at any given time. If a product is not in stock we do our best to improve its availability, however we can unfortunately never predict the exact date a product will be restocked. Please also keep in mind that stocks vary depending on the country and warehouse.
If you accidentally added the wrong product or the wrong amount to the shopping basket, simply click on the shopping cart icon in the top right corner of the website and you can see its contents. Here you can use either the + and - symbol to increase or decrease the amount of a specific product or click the bin icon to remove it from the basket.
While an account is not necessary to place an order, it has certain benefits. With an account you can always check your order status, see a listing of previous orders, request a purchase receipt at any time and store information for easy access during future orders.
Simply use the contact form on our mail or live chat and we will get back to you as soon as possible.