---
Forget conventional cat carriers, now you can give your kitty a great view every time you bring them out of the house. Cats are visual creatures, the more they can see, the more comfortable they are.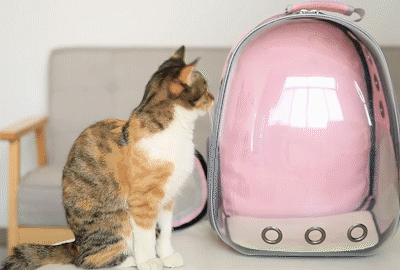 Our amazing Clear Bubble Cat Backpack lets your cat see everything around it!
That means your next outing will be much less stressful compared to locking your cat in a boxy traditional kennel. Our unique design features a massive viewing window along with 9 ventilation holes and meshes side venting to make sure your cat has plenty of fresh air. The convenient side door allows you to easily reach inside and the handy pocket on the other side is perfect for storing food or cat accessories. The wide padded shoulder straps are comfortable even during long outings and the chest buckle system also helps ease evenly disperse the weight of the load.
All of the components including the clear viewing window are made from premium-quality, pet-safe materials that are waterproof, easy to clean, and lightweight.
Best of all, our design is approved by most airlines for use on flights!
The Clear Bubble Cat Backpack will make your next trip more enjoyable for you and your cat. Find the perfect color to match your style.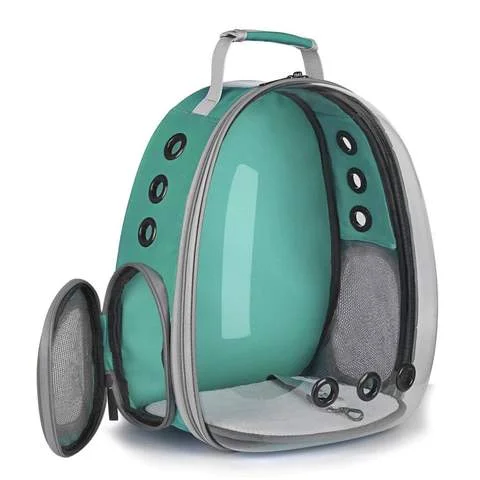 🐾 [ Unobstructed Views ]
The Clear Bubble Cat Backpack features an enormous amount of viewing space for your cat to enjoy. Your cat will love seeing the changing environments and surroundings and they will always stay nice and comfortable inside thanks to our roomy design.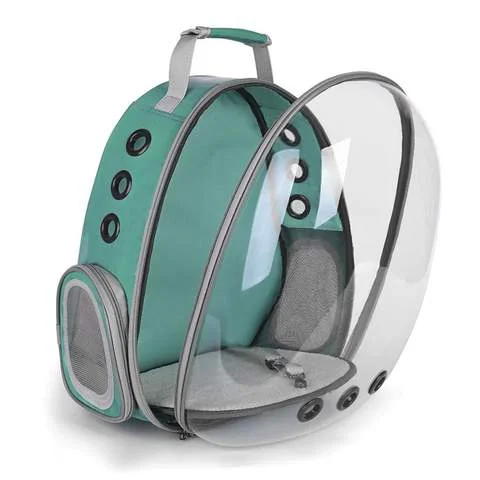 🐾 [ Style & Function ]
Not only does the Clear Bubble Cat Backpack look amazing but it is also very easy to use. The clear viewing window zips easily on and off to allow for simple entries and exits. Plus, the side panel can also be used to get your kitty in and out. Your cat will like it much more than traditional kennel-style carriers.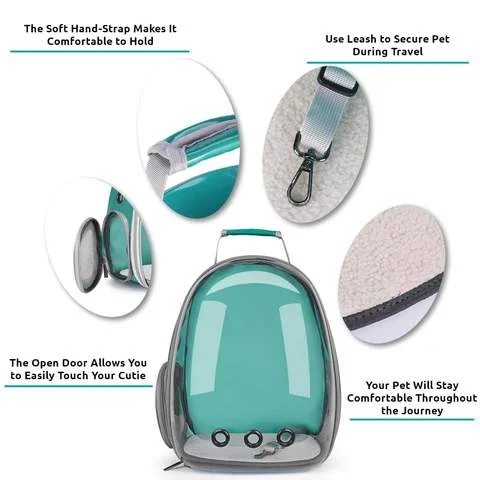 🐾 [ Full of Features ]
The Clear Bubble Cat Backpack is loaded with features that add comfort and safety to your travel experience. You'll love the soft top handle grip and your cat will love the comfortable padded carpeting base. Plus, we've also included a safety leash inside to make sure your cat doesn't fall or jump out.
🐾 [ Extra Shipping Protection ]
We want your kitty to have the clearest view possible which is why we have added a protective film coating to our huge viewing window. When your backpack arrives simply peel away the protective layer to reveal a spotless brand new viewing area.
🐾 [ Transparent Capsule Design ]: Cats love to keep a close eye on their surroundings. The large transparent window allows your fur baby to enjoy the outdoor sceneries even more.
🐾 [ Excellent Ventilation ]: Nine large ventilation openings on the front and both sides ensure fresh air circulation for your fur-kid. Carry the backpack on the front, it is easy to reach in through the side opening and pet your kitty.
🐾 [ Durable & Pet Safe Material ]: Made from premium pet safe materials, this backpack is waterproof, easy to clean, and lightweight. The side pouch is perfect for a can of Friskies or a bag of treats!
MEASUREMENT GUIDE
📐 Dimensions: 11.4" x 10.6" x 16.1" (29 cm x 27 cm x 41 cm)
⚖️ Maximum weight: 12 lb (5.4 kg)
⚖️ Bag itself weighs about 2.7 lb (1.2 kg)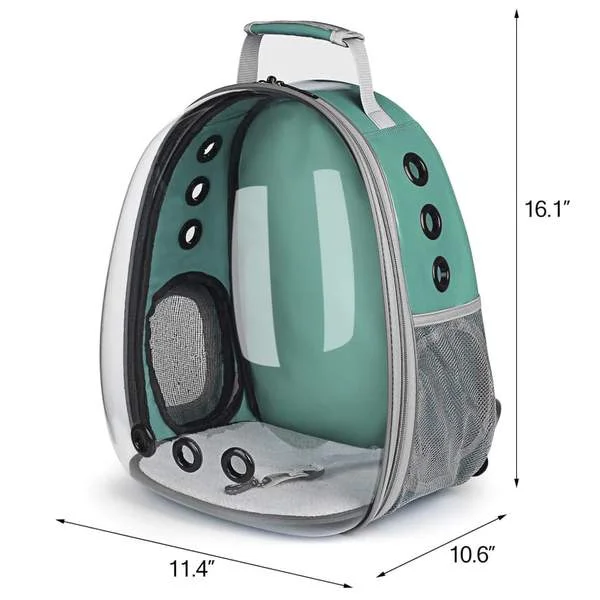 FAQ
Frequently Asked Questions
You are able to use your credit card, apple pay, google pay or a paypal account as payment methods.
Shipping fees depend on the shipping method you choose. Standard shipping is free with an order value of at least 19.99$.
We offer USPS shipping for parts and accessories, ground shipping, USPS expedited shipping and USPS priority/overnight shipping.
We generally offer a return window of 30 days after purchase.
There is no minimum order value, however with an order value of at least 19.99$ you will receive free shipping.
Our warehouses for America are located in wyoming.

Unfortunately we can not guarantee that all our products will be in stock at any given time. If a product is not in stock we do our best to improve its availability, however we can unfortunately never predict the exact date a product will be restocked. Please also keep in mind that stocks vary depending on the country and warehouse.
If you accidentally added the wrong product or the wrong amount to the shopping basket, simply click on the shopping cart icon in the top right corner of the website and you can see its contents. Here you can use either the + and - symbol to increase or decrease the amount of a specific product or click the bin icon to remove it from the basket.
While an account is not necessary to place an order, it has certain benefits. With an account you can always check your order status, see a listing of previous orders, request a purchase receipt at any time and store information for easy access during future orders.
Simply use the contact form on our mail or live chat and we will get back to you as soon as possible.