---
The Banana Peel is perfect for your cat to hide, nap, and peek out at unsuspecting passersby! It's cozy, plush, and extremely soft. Your cat is guaranteed to love this Bed. Peel the banana open or closed with velcro closure for maximum comfort and sneakiness.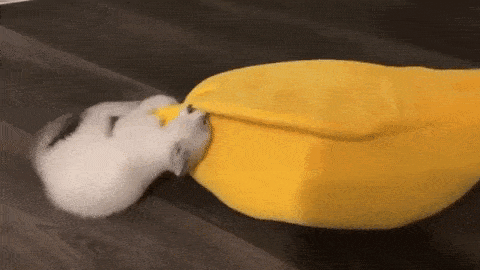 Give your beloved cat optimal comfort with our Banana Cat Bed! Our Banana Cat Bed provides an extra cozy and warm spot for your cat on a cold winter day. It features a banana peel your cat can hide in and out of while still having the privacy the cat needs.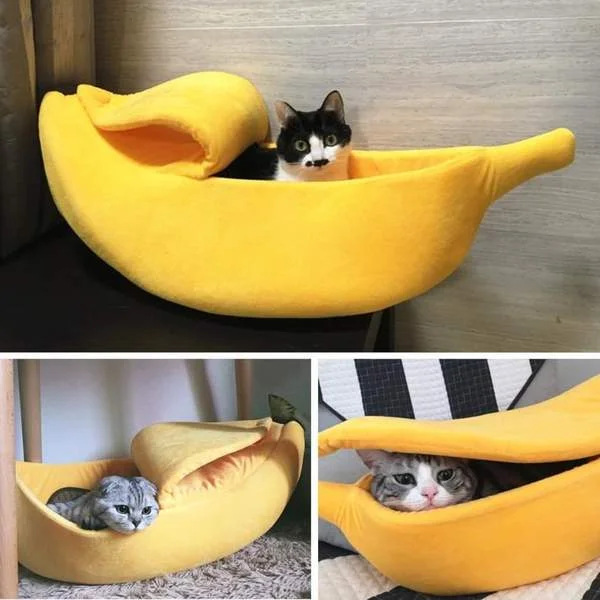 Just peel open the top layer of the banana to sneak a peek at your fur baby sleeping inside. This banana-shaped bed not only gives your cat the perfect cat cave bed, but it's also fun to watch the cat sleeping in it!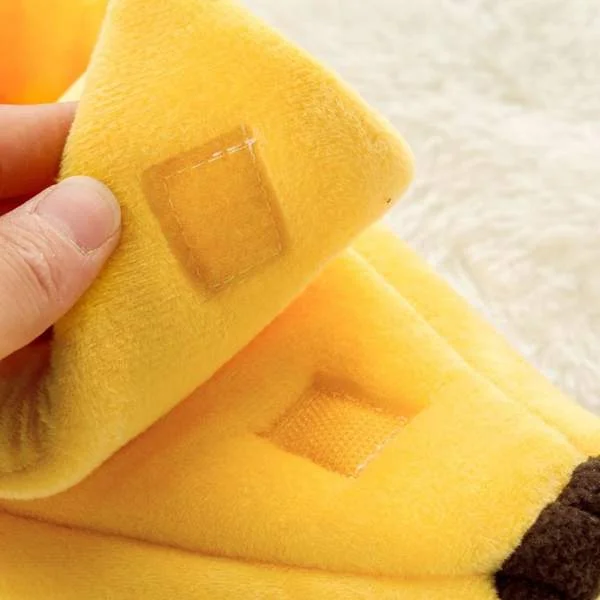 🐾 [ Cozy & Comfortable ]: Our banana bed is made of premium pet-safe materials. The entire cat banana bed is super soft and luxurious, prevents malting, losing the ball, and doesn't fade. Your cat will love it so much and enjoy a sound sleep inside it.
🐾 [ Semi-Open With LID Design ]: Our banana bed allows your cat a private and cozy place. It is a soft plush bed with an elastic sponge that is super comfortable to touch and sleep in. Our bed will create a feeling of safety, security, and a comfortable spot for your cat's nesting and snuggling needs.
🐾 [ Cute Banana Shape Cat Bed ]: The cute banana shape design, looks like a real-life-sized banana that's lovely and novel. Your cat will love it and sleep like a kitten!
MEASUREMENT GUIDE
📐 SMALL: Approximately 6" x 13.4" x 4.3" (15 cm x 34 cm x 11 cm) for pet up to 3 lb (1.4 kg)
📐 MEDIUM: Approximately 7.9" x 18.5" x 5.9" (20 cm x 47 cm x 15 cm) for pet up to 6 lb (2.7 kg)
📐 LARGE: Approximately 9.8" x 23.6" x 7" (25 cm x 60 cm x 18 cm) for pet up to 11 lb (5 kg)
📐 X-LARGE: Approximately 11.8" x 30.7" x 8" (30 cm x 78 cm x 20 cm) for pet up to 22 lb (10 kg)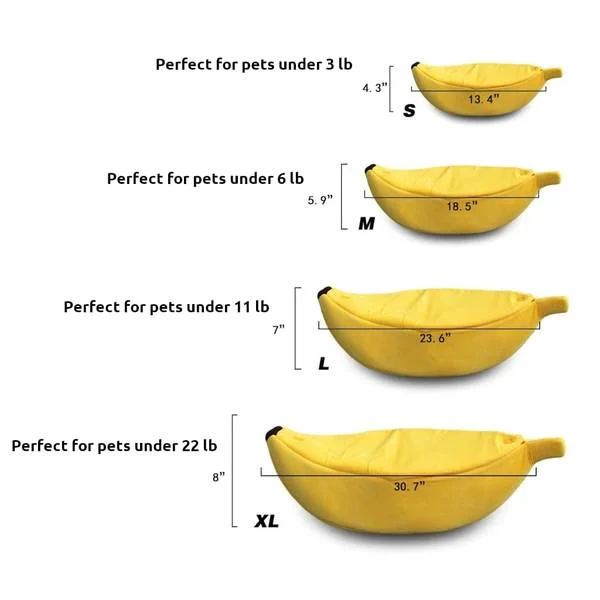 FAQ
Frequently Asked Questions
You are able to use your credit card, apple pay, google pay or a paypal account as payment methods.
Shipping fees depend on the shipping method you choose. Standard shipping is free with an order value of at least 19.99$.
We offer USPS shipping for parts and accessories, ground shipping, USPS expedited shipping and USPS priority/overnight shipping.
We generally offer a return window of 30 days after purchase.
There is no minimum order value, however with an order value of at least 19.99$ you will receive free shipping.
Our warehouses for America are located in wyoming.

Unfortunately we can not guarantee that all our products will be in stock at any given time. If a product is not in stock we do our best to improve its availability, however we can unfortunately never predict the exact date a product will be restocked. Please also keep in mind that stocks vary depending on the country and warehouse.
If you accidentally added the wrong product or the wrong amount to the shopping basket, simply click on the shopping cart icon in the top right corner of the website and you can see its contents. Here you can use either the + and - symbol to increase or decrease the amount of a specific product or click the bin icon to remove it from the basket.
While an account is not necessary to place an order, it has certain benefits. With an account you can always check your order status, see a listing of previous orders, request a purchase receipt at any time and store information for easy access during future orders.
Simply use the contact form on our mail or live chat and we will get back to you as soon as possible.